Yukon School Councils' Conference & AYSCBC AGM
Supporting Young Minds: Student Safety & Wellness
We invite you to join us for our annual Yukon School Councils' Spring Conference, taking place April 26-27, 2019 at the Yukon Inn at Whitehorse, Yukon. Held in conjunction with the Association of Yukon School Councils, Boards and Committees (AYSCBC) AGM, the conference is a great networking experience for meeting others and participating in professional development opportunities provided by keynote speakers and other presenters.
Internet Safety and Digital Literacy Presentation for Parents and Caregivers
In keeping with this year's theme of Supporting Young Minds: Student Safety & Wellness, AYSCBC is pleased to sponsor an evening presentation on Friday, April 26th entitled, Internet Safety and Digital Literacy for Parents and Caregivers facilitated by Darren Laur of the White Hatter Team. A three hour session covering all topics including cyberbullying, sexting and other issues students and schools are faced with, will also be offered to delegates on Saturday, April 27th.
From Victoria, B.C., the White Hatter Team has presented to over 450 schools and thousands of students across Canada and U.S. It's mission is to equip students, educators, parents and others with the tools necessary to stay safe in the real world as well as in today's digital world.
Friday April 26
7:45 am Continental Breakfast, Registration
8:30 am Opening Prayer & Welcome Remarks
8:45 am Yukon Education Update
9:15 am Fentanyl & Substances: How to Help
10:30 am Nutrition Break
10:45 am Breakout Sessions (choose one)
Session A: Comprehensive Sexual Health Education
Learn about the sexual health education being delivered in schools including topics related to sexuality, relationships, decision making, abstinence, contraception and infection prevention
Session B: Safety in Schools and in the Workplace
Hear from health & safety officials regarding the work being undertaken in classrooms to prevent injuries at school and in the workplace (Jell-O brain workshops on concussions, mental health workshops)
Session C: School Traffic Safety
Panel discussion regarding traffic safety practices being employed by various schools throughout the territory such as signage, traffic monitors and inter-agency collaboration
12:30 pm Lunch provided
1:00 pm AYSCBC AGM
2:00 pm Chooutla Residential School: Reclamation and Reconciliation
3:00 pm Nutrition Break
3:15 pm School Council Roundtable
4:30 pm Adjourn
Public Presentation on Internet Safety & Digital Literacy for Parents and Caregivers by Darren Laur, White Hatter Team
Doors Open: 6:00 pm
Presentation: 6:30 pm
Donations to the Food Bank welcome!
What You Will Learn
- Today's online slang as well as emojis and their connotations
- Things you can do to immediately protect your child online
- Positives and negatives of social networks
- How to spot and mediate cyber bullying
- Why everything one does online is public, permanent & searchable
- The law as it relates to sexting & cyberbullying
Question and Answer Period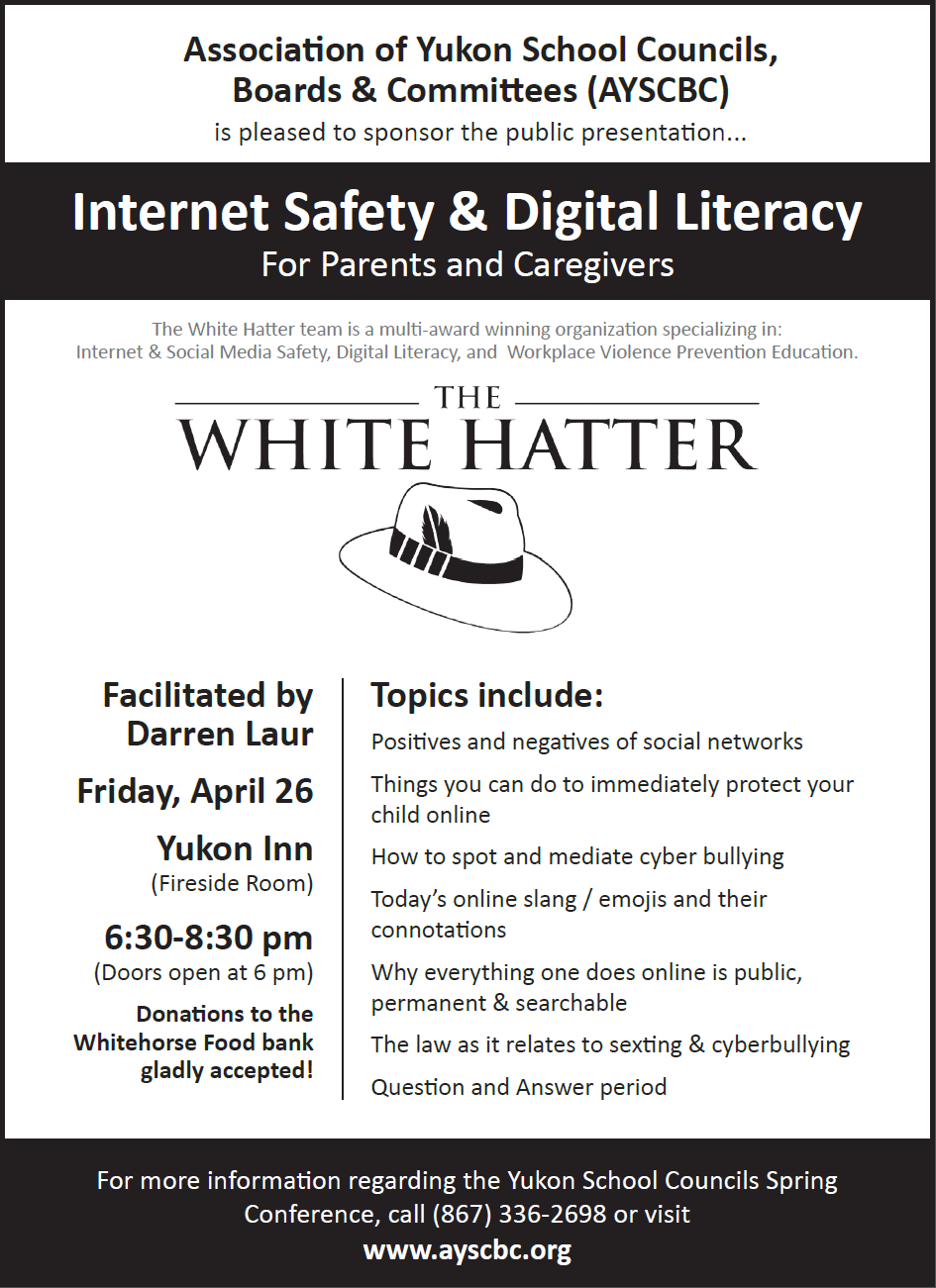 Saturday April 27
8:00 am Hot breakfast for all participants
9:00 am Internet Safety & Digital Learning
11:55 am Closing Remarks
Noon Lunch provided
EVERYONE WELCOME! To register, email This email address is being protected from spambots. You need JavaScript enabled to view it. or call (867) 668-2698
Working Together For High Quality Education
The Association of Yukon School Councils, Boards & Committees is a non-profit organization that provides services to its Members which benefit the Yukon community at large.
Our focus is on working collaboratively to increase student success by supporting the work of School Councils, Boards and Committees.
We believe in the ability of strong, well-informed, locally elected parent/community organizations to strive for improved student learning.
Our Objectives
The objectives of the Association include:
To undertake and / or coordinate project initiatives identified as being of a common priority by its Membership and disseminate any resulting information.
To ensure access to training programs on behalf of its Members.
To ensure effective communication between the Association, its Members and external contacts.
To provide expert advice to its Members.
We extend our appreciation to Yukon families for giving their time, patience, guidance, enthusiasm and love to their children, our students and our school communities.
Thank You
Màhsi' choo (GWICH'IN)
Mähsi' cho (HÄN)
Gùnèlchish (TAGISH)
Gunalchîsh (TLINGIT)
Shäw níthän (SOUTHERN TUTCHONE)
Máhsin cho (NORTHERN TUTCHONE)
Tsin'jj choh (UPPER TANANA)
Sógá sénlá' (KASKA)
Merci (FRENCH)
Salamat (FILIPINO-TAGALOG)


AYSCBC Privacy Protection Policy Statement 
The Association of Yukon School Councils, Boards & Committees (AYSCBC) is committed to protecting the privacy of its Members, directors, staff and any other persons from whom AYSCBC collects personal information.
Personal information collected by AYSCBC will be limited to information that is needed for providing services to our clients and will be used only for the purposes for which it is collected.
Personal information will be disposed of in a safe and timely manner when no longer required.
AYSCBC is committed to safeguarding the personal information entrusted to us by our clients and our staff. No personal information will be sold, rented, leased or otherwise made available to any person or organization.
Approved January 23, 2014